USA Boccia pays tribute to the life of Karen Stallings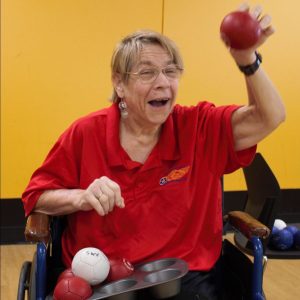 USA Boccia pays tribute to the life of Karen Stallings.  Karen passed away on February 2, 2022.  She was 64 years old. Karen lived in Raleigh, North Carolina.  Her local club was Bridge II Sports.  We have included their tribute note below.
Karen was also an active participant with USA Boccia. She served on the Bylaw Committee between 2017 and 2019.  She holds ranking points in both athlete Boccia Class divisions, BC5 and BC2. We send our condolences to her husband, Ken Stallings, who also made an impact on USA Boccia National tournaments.
These are comments from a few USA Boccia members, upon hearing of Karen's passing:
Karen was one of the first people I ever played boccia with and her love for the sport was contagious. I'm thinking about our boccia community today and what it means to me and I hope you are all well. – Fiona Allen
I am sad.  She was one of the kindest people I ever met.  I will miss her! —Tim Dalton
Karen was sweet and salty!  I will miss her emails.  She asked Elizabeth one time if I was her dad?  When Elizabeth said yes, Karen shared.  "I am so sorry for you!"–Mark Flora Swick
Karen's last National tournament was in San Antonio, 2019.  She and Kenny were at the venue early encouraging those of us laying the courts.  They were probably the last to leave the tournament after the competition. Thank you, Stallings, for your contribution to Boccia.- Cathy Drobny
The follow excerpt, and the photo used with our article, is from the Bridge II sport February 2nd newsletter:
It is impossible to even mention Bridge II Sports Boccia and not think of Karen. 
She, more than any BIIS athlete, really found her 'player within' since discovering Boccia in 2009 when she was in her 50s.  The sport brought so much joy to her life and she was always eager to share that joy with others. Karen was the editor of the BIIS Boccia Buzz newsletter, served on USA Boccia committees and competed at several Nationals, taught the sport to residents of a nursing home, and even named her dog 'Boccia'!
For several years Karen also hosted her own interview-style TV talk show that gave a platform for others with disabilities to share their stories and…you guessed it…spread the word about adapted sports and Boccia.  She was never afraid to speak up and have her voice heard. 
Even more than the sport, she loved life and all the people around her.  Always a warm smile as she wanted to know how "you" were doing.  Karen had a coy eye that sparkled when she was challenging you. I will never forget that look!  Her competitive side made practice fun – no one could 'Junk-Talk' like Karen! Her Boccia community was a place where her heart soared.