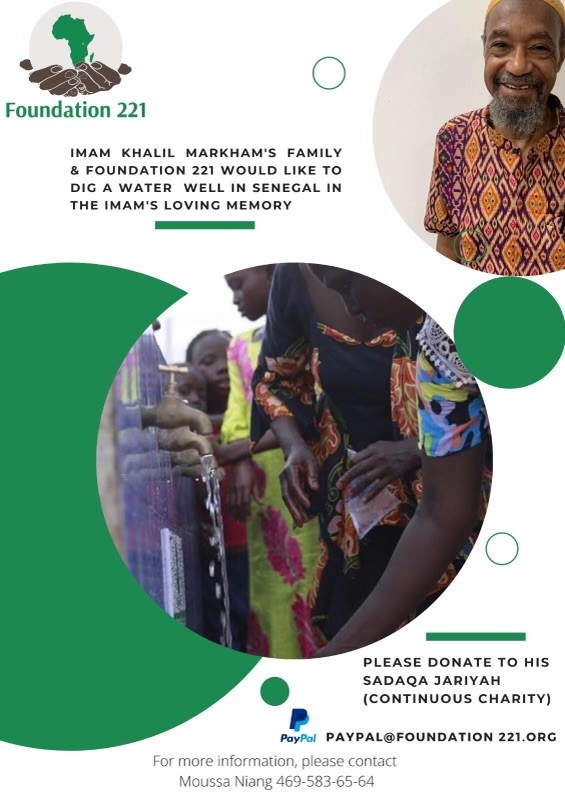 USA Boccia pays tribute to the life of Cornell
Markham 1945-2021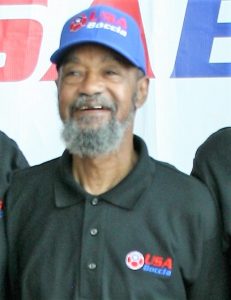 Referee career:
Cornell was a referee at the Michigan Victory Games for 4 decades. He has been a referee at USA Boccia Nationals since 2003. He served on the USA Boccia Referee Committee since 2016.
Cornell achieved International Referee certification in 2005. Highlights from his recent International Referee activity:
2015 Boccia World Open, Cali, Colombia Parapan American Games. Toronto, Canada
2016 BISFed World Open, Montreal, Canada
2017 BISFed World Open, Kansas City, USA
(He was selected to read the Referee's Oath at Opening Ceremony)
2018 BISFed World Open, Montreal, Canada
2019 BISFed World Open, Montreal, Canada
His wife, Fatima, shared, "I knew Boccia meant a lot to him because he was so dedicated. He explained that persons with disabilities and competing was so fulfilling for him. He was proud that he was a referee and got to go all around the world with the sport of Boccia."
Personal life:
Detroit, Michigan was Cornell's lifelong home.
Cornell met Fatima at the Masjid. He is a father to a set of twin girls and 2 sons. Cornell is a grandpa.
He had a long history of 30 years in the community repertory theater. He started as an actor and acted in nearly every season for many years. Then he learned lights and became the theater's lightboard operator. In recent years he acted as house manager.
History as an Imam:
Cornell was selected by the Muslim community to be Imam. He agreed to be Assistant Imam of the Masjid. He explained the readings to his community. He assisted with important milestones in their lives. He met with couples, preparing for marriage.
Cornell was well appreciated as a counselor.
As his health began to decline, only he knew how he was feeling. He stopped going to the Masjid, and would teach through ZOOM .
Cornell passed on Sunday Nov. 21st and was buried on Tuesday Nov. 23rd according to his Muslim faith. Many people came out for his Janaza to honor his life.

Comments from the USA Boccia Family follow:
Cornell was a rock. Steady, strong and right there when he was needed.
Always a bright and pleasant person with a willing ear and sound advice.
He will be greatly missed.
Condolences to his family and the Boccia fraternity. –Francine Hook-Long
An incredible human being and talented referee. Cornell was my friend for almost 40 years. I met Corn by interviewing him for a position with the Detroit Recreation Department's Disability Sports Team. He was so sincere in the interview that I selected him on the spot! We worked together and traveled together for many years. My prayers are with Fatima and his family.
Cornell was truly "a man for all seasons". He will be missed! –Louis Mitchell
We considered him a really good friend. He had a gentle and calming spirit.-Bill and Cathy Drobny
Cornell always supported me when I questioned my abilities. He had such a calming and loving vibe that passed on to all those around him. He also could always make me laugh! Harold, Cornell and I were walking to the venue in Michigan and I cut across the grass to get there faster and Cornell looked at me and called me 'ghetto'. I just busted out laughing! That was a running joke for the rest of the tournament. He also laughed at my taste in music especially when I played Rhianna S&M.-Jennifer Smith Mugnaini
He was one of the good guys. – Melanie Yules
He was such a great guy. I remember always having nice conversations with him at Nationals. He will be missed. A great loss to the Boccia family. -Kathy Murphy
Wow! One of the coolest people I had the pleasure of getting to know. -Marck Harrison
Cornell was my buddy at my first nationals! This is so sad! – Heather Katz
May Allah TA'ala bless him with all of what he has done for our community and grant him with peace and paradise. Aameen. We will miss you. From Zakai's famiy
Cornell was an awesome Ref and person. My thoughts and prayers are with all who know him. Thank you, Cornell for the impact you made on the sport of Boccia. – Candace Ruzek
Cornell loved working with our disabled veterans who participated in Boccia. Himself being a veteran, he always showed compassion to all our athletes.-Charley Wright
Sincere Condolences. Cornell was a great guy, always smiling! –Marybeth Jones
On behalf of the Nassau thunderbolts, we send condolences and love to Cornell's family. Such a tremendous loss of a wonderful man..-Mary Hodge
Boccia will forever miss him. –Dan Castillo
Cornell was such a great man! Sincere condolences to his family and to the Boccia family. –Marie Hebert
Condolences from Canada –Tammy McLeod
Condolences from Steven Dell and Coach Casey
RIP Cornell and thank you for everything you did for our boccia athletes! -Cesar Nicolai
Always enjoyed reffing when Cornell was on the team. –Margaret Tibbo
Really like that man –Carole Santerre
RIP – Connie Jean Louis
A man of patience with a big smile. –Harold G Johnson (Hojo)
Cornell was a sweet quiet man who loved the athletes and all involved in Boccia. He was a great calming presence at every nationals. He will be sorely missed in the sport. –Kathy Brinker
I admired his calm and respected his sense of humor. He has a gentle spirit that I will miss. –Lee Graybeal
Cornell was a kind and gentle spirit who put all of those around him at ease. His smile was contagious, his patience long, his friendship steadfast. Cornell loved being a USA and International Boccia Referee. He was typically a quiet presence at tournaments but he had the greatest smile and laugh. I don't know anyone who didn't love being around Cornell. He genuinely loved interacting with the athletes and fellow referees. He was deeply devout to his religion which I admired. At tournaments, he worked around his scheduled referee responsibilities to say his daily prayers. I'm so glad I had the privilege to call Cornell my friend.-Mary Knudsen
Cornell's congregation from the Masjid is having a water well created in Senegal in Cornell's loving honor. If you would wish a link to the Foundation collecting donations, please follow the link
Memorial Gallery