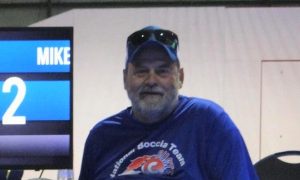 William "Mike" Norris, 58, of De Soto died March 13, 2022, in Fenton, MO. Mike served in the
U.S. Army for 20 years. Mike was born October 20, 1963 in St. Louis, MO, son of the late Robert
Lee Norris, Sr. and Joan Louise Norris (Hanley).
He was a member of the Gateway Chapter, Paralyzed Veterans of America for 22 years. Mike served on the Board of the
Gateway Chapter PVA for many years, as well as serving as the Sports Director. He enjoyed playing Boccia and was a
member of USA Boccia. He also loved fishing and spending time with family. Mike was also a dedicated member of the
VFW and the DAV.
He is survived by three sons: Jared (Jessica) Norris of De Soto, Jacob (Courtney) Norris and Josef Norris; two daughters:
Whitney (Gareth) Di-Pietro of Kentucky and Kristi (Ryan) Horton of Louisiana; two brothers: Eddie (Debby) Norris of De
Soto and Bobby Norris of Jacksonville, Fla.; two sisters: Carrie Justine of St. Louis and Helen McMahon of Florida; eight
grandchildren: Jaxon, Nolan, Adalyn, Arden, Eifion, Gavin, Cassius and Parker; and many other family members and
friends. He was preceded in death by a sister: Phyliss (Eric) Flottman.
Boccia Notes:
Mike was a team member of the Cluster Busters.
At the 2017 USA Boccia Nationals, Mike Norris competed and advanced to the BC5 semi-finals, putting him 4th in the
ranking . In the 2018 USA Boccia Nationals, Mike earned the Silver Medal.
He carried this 4th place US ranking through 2019
These are Adam Burnett's comments:
"Mike was always friendly and fair to those who met him through boccia. He was a difficult opponent to defeat playing
the game well at both short and long distances. Mike was a gracious competitor whether he was the victor or not. His
presence was missed at the 2019 and 2021 national tournament and will be missed at other USA Boccia events going
forward. "
Doug Barnes was Mike's BC5 Pairs partner for both years
Photo is Mike Norris and Adam Burnett who competed in the BC5 Championship Game in 2018.